In the fall of 1936, a 24-year-old black baseball player from rural Louisiana stepped off a boat in Tokyo. His name was James Bonner. An ace pitcher with a vicious submarine pitch, Bonner, according to Japanese newspapers breathlessly heralding his arrival, once threw 22 strikeouts in a single game back in the States. Bonner had just been signed by a Japanese team called Dai Tokyo, which debuted the year before, lost nearly every game it played, and was desperate for new talent.
Not for another decade would Jackie Robinson be allowed to play an American Major League Baseball game, but in Tokyo, being black wasn't a strike against Bonner. Just the opposite. Local papers excitedly pointed out his color, running headlines like "Black Pitcher Rushes Onto the Scene, Excellent Fielder, Holder of Amazing Strikeout Record." News reports gushed about his personality, calling him "athletic" and "charming." His signing bonus included daily steak dinners, unusual and expensive fare at the time, and his salary at the time was 400 yen per month. That won't get you a hot lunch in Tokyo nowadays, but then, it was an extremely generous salary. The biggest Japanese pitcher at the time, Eiji Sawamura, made about 120 yen a month
But the tale of how a black American baseball player from the Deep South ended up a big shot in Japan in 1936 is bigger than Jimmy Bonner. It's a little-known story of friendship and mutual aid between Japanese-American and black baseball players at a time when both groups were shut out of organized baseball. It sprang up in California in the pre-war years, became part of "one of the boldest — and most overlooked — experiments in baseball history," made its way to Tokyo, and would end up shaping the future of baseball in Japan.
A Place Where 'Only The Game Mattered'
To start, we need to go back to the 1920s, when professional black baseball teams played around the country in a network collectively called the Negro Leagues. One of these teams was the Los Angeles White Sox, managed by a black railroad worker named Lonnie Goodwin who is recognized today as one of the greatest baseball managers of his era. His team was all black, except for one member — a Japanese second baseman — and it played in Central LA's White Sox stadium along with a local Japanese squad called the L.A. Nippons.
The L.A. White Sox had more contact with Japanese-American players in 1925, when they lost a match against a Japanese team called the Fresno Athletic Club. That squad was managed by a Hiroshima-born mechanic named Kenichi Zenimura, whom sports historians would later refer to as the father of Japanese-American baseball. Perhaps over the customary cold beers and cigars he liked to enjoy after a win, Zenimura pitched Goodwin a new venture. Over the previous few years, Zenimura had been rounding up groups of Japanese-American ballplayers to tour Japan to develop the game back home. Might Goodwin be interested in bringing some of his players along for the next tour?
At the time, the sport was still finding its footing in Japan. Baseball had been in the country longer than you might expect, introduced by a white Civil War veteran named Horace Wilson, who taught English at Tokyo University in the 1870s, but it didn't get its native Japanese word — yakyuu, meaning "field ball" — until 1894. The sport developed slowly for the next couple of decades, primarily among students. By the mid-1920s, when Zenimura and Goodwin were making their plans back in the States, Japan's most popular baseball teams were still college teams, and the country had just built its first steel-and-concrete ballpark.
Baseball historian Bill Staples has written a biography of Zenimura, and he estimates that for both Zenimura and Goodwin, the prospect of touring Japan was a timely opportunity. Zenimura knew that baseball was slowly gaining popularity in his home country and that the pair stood to make good money on ticket sales at exhibition games at universities and parks in Japan. This was especially important for Goodwin; making a living as a semipro ballplayer was difficult for blacks, meaning that funds for stadiums, uniforms and player salaries had to be secured through creative means. This seemed like a good shot.
Zenimura and Goodwin may have had ticket revenues in mind, but if you take a step back, the stakes were bigger than baseball or business. Anti-Asian racism was rampant across the country, and by 1920, a California organization called the Japanese Exclusion League was gaining influence. With the backing of powerful newspapers, the group successfully lobbied for the Immigration Act of 1924, effectively banning Japanese immigration to the U.S. For some Japanese-Americans, baseball was a way to negotiate their Americanness on their own terms. As Takeo Suo, who played ball as a prisoner in a wartime internment camp, would later put it, "putting on a baseball uniform was like putting on an American flag." For Zenimura, who saw baseball as a way to break down barriers, expanding the sport in Japan may have been a way to ease tensions at home as well.
A Glowing Welcome
In the spring of 1927, Goodwin and Zenimura arrived in Japan for a joint "goodwill tour." Zenimura brought his own Japanese-American team, and Goodwin led a powerhouse squad of 14 all-star Negro League players he had sourced from other cities and dubbed the Royal Giants. One Japanese player recalled arriving at a match against the Giants and watching in a mix of fear and awe as his far more experienced opponents warmed up on the other side of the field. Surely, this squad of foreigners was going to crush his team. But, as he reported years later, "We were extremely pleased to find that they did not take an overbearing attitude, but instead were quite gentlemanly. Unlike our games with the Major League players, we had an excellent match, and this heightened our love for the game of baseball itself."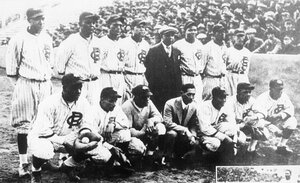 (Those other games he's referring to were in 1934, when a group of white major league superstars, including Babe Ruth and Lou Gehrig, went to Japan for another "goodwill" tour. Japanese baseball historian Kazuo Sayama reports that the experience left their hosts with a bad impression. "The white players … treated their opponents and the fans with contempt, running up scores against inexperienced opponents and insulting their hosts, both on the field and off," he writes. "On one rainy day, Ruth played first base holding a parasol. Gehrig wore rubber boots. Al Simmons lay down in the outfield grass while a game was in progress.") read more..
via npr.org
0